7 Easy Essential Oil Uses & Hacks
New to essential oils? Here are 7 easy ways to use essential oils in your home! I've been obsessed with essential oils and having fun learning how to use them in as many ways as I can. Whether you're an essential oil beginner or essential oil expert, you'll probably get some new ideas from this video.
My essential oil collection
On my essential oil collection: I started with a beginner's kit of 6 essential oils. Then I started researching MUJI essential oil blends and bought the ingredients in those blends from Amazon (thrifty ol' me… lol). Start with the most common/versatile oils and then explore new ones you think you'd like! I've starred my favorites below (*)
Lavender*
Eucalyptus*
Tea Tree
Lemon*
Sweet Orange
Lemongrass
Peppermint
Rosemary*
Grapefruit*
Rosewood*
Frankincense*
Geranium
Cypress
Below are my favorite blends for diffusing essential oils. I don't always stick to these & usually blend so many oils that the scent is always different. It's not a science, it's an art 😜
Spa vibes | Lavender + Eucalyptus
Spring spa vibes | Lavender + Eucalyptus + Geranium
Squeaky clean | Lemon + Rosemary
Fresh bathroom | Orange + Lemongrass
High vibes | Frankincense + Rosewood
Sweet forest | Eucalyptus + Cypress + Geranium
Citrus Dream | Grapefruit + Lemon + Orange (+ Lavender / Peppermint)
Recipes
Castile Soap Surface Cleaner
2 cups distilled water

2 Tbsp castile soap

10-15 drops essential oils (I used 6 lavender / 6 rosemary / 3 grapefruit)

Add all ingredients & water last. Shake well.
From Live Simply Blog.
Vinegar Surface Cleaner
1 cup distilled water

1 cup white distilled vinegar

15 drops of essential oils (orange / lemon / lavender / peppermint)

Add all ingredients & water last. Shake well.
Note: Cannot be used on granite, marble or other natural stone surfaces. From Live Simply Blog.
Vodka All-Purpose Cleaner 
½ cup vodka

1 ¼ cup distilled water

6 drops rosemary oil

6 drops lavender oil

Optional: 5 drops grapefruit seed extract

In 16 oz amber or cobalt glass spray bottle

Add all ingredients & water last. Shake well.

If using other amount, the proportion is: 1 part vodka to 3 parts distilled water
From the book: Easy Green Cleaning by Elizabeth Hemmings
Best essential oils for cleaning
Lemon
Lime
Wild orange
Thyme
Peppermint
Lavender
Eucalyptus
Tea Tree
Rosemary
Cinnamon
Shop these items
How much do you really know about yourself?
Discover more about yourself and what you want out of life with this free downloadable list of 30 self reflection journaling prompts.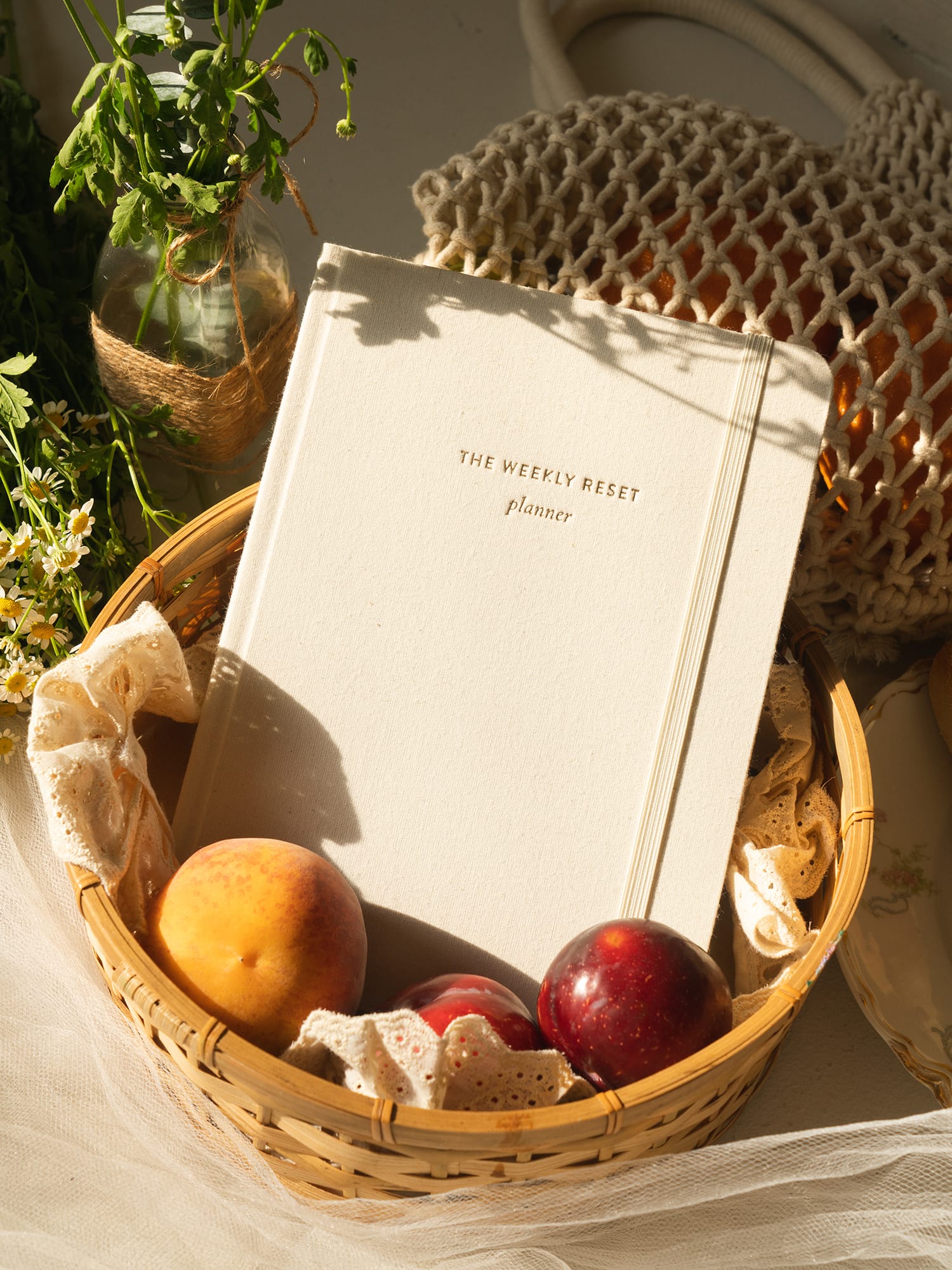 weekly reset planner
$40